After breakfast at 8 am we start from Mandara huts. We changed shorts to tight pants, T-shirts – on shirts with long sleeves and the last section of the path we take today windbreaker. The path an hour goes by woods. In turn offers great ashes. The fire happened a couple of months ago, but the burned trees … had huge purple flowers bloom. These are fires in Africa – burning grass and shrubs, small animals are killed and with trees nothing happens.
At an altitude of 3000 meters forest thins disappear vines, shrubs give way to grass. In the first pass we see the snowy top of Kibo – the main peaks of Kilimanjaro. In the last two years is not enough rain, and the famous "Rum Baba" is not, but still very beautiful mountain. We can see sisters Kibo cone – Volcano Mawenzi. For the "Dummies" rise to Mawenzi impossible, and we can only admire the sharp lava fragments and persuade ourselves that half a kilometer below Mawenzi and Kibo climb it does not make sense.
The vegetation becomes poorer. And then… in the gap, which streams flowing down from the mountains, grow strange three-, five-meter tree. It's like a palm tree, and above – a bunch of green leaves. Tobias said that this tree – a repository of ancestral spirits. We approach closer. It turns out that "trunk" consists of dried leaves. With encyclopedias found out that this is not a tree, and senentsio, groundsel – grass, relative well-known decorative "cabbage", which we like to put in cemeteries. Another mysterious plant – is lobelia, huge prickly leaves of corn with pineapple.
Kilimanjaro – is the holy mountain. Even fifty years ago on the slopes there were a pagan temple, combined with caves, catacombs, where the dead Chaga were buried. Now temples destroyed, and the cave is rumored rarely used. After six hours of travel suddenly lifted the fog, showing houses Horombo huts. We are at an altitude of 3700 meters, behind another 16 kilometers. Headache. Tourists subdued and not having fun, and overcomes some nausea. There art many lemmings in the camp, but no one pays attention to them.
Toward night from a cliff overlooking the city of Arusha – Tanzania administrative centers and … the geographical center of Africa. Arusha has a small area of the ceiling, which shows how the calculated center of Africa. We are in the heart of Africa! But it's hard to believe. In the night at Horombo is really cold.
LAST WATER
At eight in the morning we are again on the road. Breakfast is not eaten – no appetite. Well, carriers get more. According to local custom guides and carriers not take anything for meal. Take food even for them – too much luxury. And experience shows: after Horombo starting troubles and most tourists have no appetite.
By refuge Kibo went thirty-five people, five back down. Among tired – two girls from England. Yesterday they cheerfully chatted with the guide in Swahili … by mountain sickness symptoms similar to sea, but much more dangerous. It may start somewhere with a mark of 2700. But usually catches up after 3500.
Due to lack of oxygen the body should soon overtake blood. In a healthy person is compensated by a lack of oxygen rapid breathing, increased blood hemoglobin. To reduce the demand for oxygen man can lie. But the thing – we have to go on top. And we do not have the required three-week acclimatization. Go "poli-poli", but still fast.
On the road from Horombo to Kibo most climbers have symptoms of "mountain decease": shortness of breath, palpitations, ringing in the ears, severe headache, weakness, poor visual acuity. One of the most extreme stages of the disease – a person sees himself as if from outside.
The road from Horombo – a desert covered with pieces of lava, volcanic bombs and covered with ashes. Herbs absent, of vegetation were only brown lichens on boulders. Moss size 10 inches increases are at least 100 years.
Halfway in clay brook meets pointer: "The latest water." At Mandara there is showers, in Horombo – convenient water dispenser. In Kibo not wash… 4300! It starts with a strong wind. We put on jackets and hoods.
Last meters to Kibo huts were difficult. A little more – and we find ourselves at the entrance divided into several common rooms hut. The height is 4700!
SNOW PEOPLE
In a room packed ten people. Bunk beds divided by men of women are not respected, not now. Most want to get into the sleeping bag – to lift remaining four hours in the morning go to storm Kilimanjaro. I get in the bag, but I can not get warm. Take blanket, jacket – all to no avail, I batters fever. The temperature at 40, and I'm not alone in suffering. Ten or twelve people chattering teeth. I drink aspirin, but the temperature does not fall, and, most importantly, you can not even sleep. By lifting 3 hours. Tobias brings hot tea and soothing, lie, rest, your ascent over. Why is it not possible to sleep one day in Kibo and go the next night? The answer is no – you can not schedule running out other groups, the flow can not be stopped even for money.
About eleven forgot in a crazy dream. In twelve – the rise. Guides carry tea, and tourists are beginning to gather. Fully bend over clothes that are in your inventory, and change light hiking on mountain boots. Gather not all, some remains lie.
I still have a fever. Drink a couple of cups of tea and force myself to eat a packet captured with a Turkish Delight with pistachios. Then drink vitamins and – again aspirin. Come on!
We leave the barracks. Frosty, but not really, 8-10 degrees. Ahead there are flashing lanterns – the first group climbed the steep slope. Tobias sets the pace. Now you can not "poly- poly" you must go quickly to dawn to catch the Hillmans Point (5685) and then as lucky – there half an hour to Uhuru Peak (5895).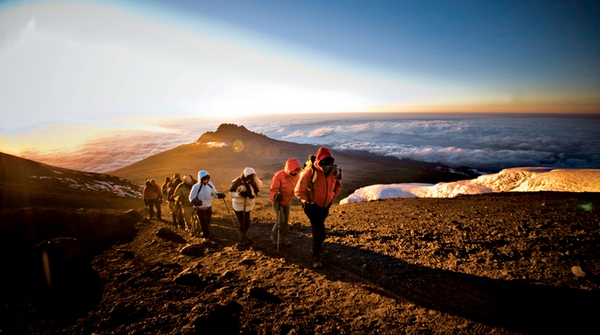 Go to loose volcanic gravel is not very difficult, but troublesome. The first 5 hours I'm able to sustain the pace. Ten people go forward, others hopelessly behind and return to Kibo. Two hours past. No cloud, dawn begins – and bloody rays paint silhouetted rock folds Mawenzi. Another hour. We go between boulders. It becomes quite clear. Slip sun.
"Almost at the very top of the western peak is dried frozen corpse of a leopard. What took leopard at such a height, no one can explain, "- wrote Hemingway in the epigraph story "The Snows of Kilimanjaro" in the late 30s. Questions, what make certain animal in dizzying heights torturing many climbers.
At ten I am on top. The air does not. Ivanov and Golubev going to raise the flag. And I decide that the case made last count pulse – and go to sleep half an hour directly under a wooden board indicating conquered footage. It seems that finally I do not feel temperature…
As Messner said: "The victory and prey leave to others. Loss and defeat take for you. "Why is he saying? Who knows. A normal person is difficult to understand climber…
I slept on top of exactly six hours. And I began to lower already dark when our carriers arrived, and Tobias, who walked behind them. Evacuation of Kilimanjaro held without ado, I just threw down the steep slope – even steeper than the one on which we went to the top. Approximately at an altitude of 5200 in the twilight we came across a strange, incredible at this altitude settlement. People here live in carved boulders and doors they were smeared with clay matting. I say – people, although we saw only one old man who went through the rosary and praying. But clearly heard through the matting lively gur gur – women and children lived in the village.
Old man corrected on the shoulders … leopard skin, and strengthened up pebbles plastic canister, which was dripping with icicles melt water. Old was not black, he was not Chaga. Judging by everything, Tobias knew these people, but to turn to them for help, he could not. As he explained, "snow" people can strip us too much money. Then we tried to find out anything about the "snow people" – but no one really knew nothing or just did not want to tell. But if people live at 5200, hence the leopards could come here, dig in edible trash how they do it on Mandapa-houses. It was enough to descend to 4,000 feet – and I came to, rest of the night I spent with my rescuers in the hotel bar Mountain – in Moshy. In the morning at the entrance of Marangu issued certificates of successful conquest of Kilimanjaro. And happy, we do not pay attention to the television group, throwing administration of the house and back to the bar.
There are only twenty years TV in Tanzania. Earlier per-view telecast relied prison. But now struggling Tanzanians buy TVs and happy to watch soap operas, and prefer products made in Swahili. However, as it turned out very soon, Tanzanians love to watch not only "soap operas", but the news.
To be continued.
By Arif Aliyev.

Posted in Traveling Africa by with no comments yet.