Tanzania National Parks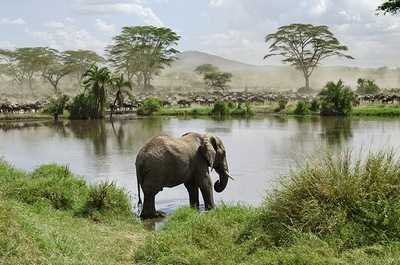 The next day we abandon hospitable Mountain inn and go on a trip to the national parks. From Arusha hour and a half we're going down the highway, but then begins bumpy primer. In fact, in Tanzania built excellent roads, but three hours towards the main park construction stopped. There are two reasons. First, foreigners are attracted to Tanzania opportunity to see the real Africa, the main feature of which in their view are herds of wild animals and lack of asphalt, at least in the jungle and savanna. Secondly, it is believed that if pave the way, there is also appeared human villages, and animals will go away. Both reasons not indisputable, but be that as it may, we rubbed the back velvet covers "Landry-faith" famous company in Tanzania Equatorial safaris, swallow considerable portion of the finest red dust and dream quickly get to the Ngorongoro.
But finally we are at the famous crater. In the 500-meter cliff knit fashionable «Ms Lode» Wild life. "Ms Lode" – hunting lodge, designed for safari. By long tradition, the so-called all hotels, from which you can see the animals. To watching the herds in the Ngorongoro Wild life at the restaurant held a special balcony with a stationary binoculars. We give our dust bags battles, and then gladly drink five glasses offered us a mango, and pineapple juice.
In the Airplane old British family all the way read the same thick book "Life of Elephants" by the famous naturalists Hamilton. Western tourists coming to Tanzania prepared to meet with wildlife. They know what they want to see, know the habits of the beast, and appears to be exactly this knowledge allow them to hang around for hours without boredom in a jeep in forest streams and wait for a certain animal. Meanwhile, the film pounds spent on anything that moves by observers.
The man raised on Hemingway, which Westerners have not read, but know that bloodthirsty writer shot 55 lions and happiness in his time Kalashnikovs were not in vogue. In Hemingway's simple – not scared and hit with a spine screw buffalo, lion or something else. Hunter on safari in a hurry and do not want to wait to look, watch, and wants to go where not allowed, and out of the car, which is impossible. Bored, animals seem safe as in a zoo. But this impression is deceptive, and in many ways it is – ignorance. How bad does not read the right books! Here are what Westerners are reading before visiting parks I wrote from the book of Hamilton just one paragraph about elephants attack near Lake Manyara.
"The first shot turned the car. Elephants pulled tusks and again plunged them into the metal. Right out of the bushes were other elephant with elephant and immediately rushed to the attack. Fortunately, the size of the machine allows simultaneous attack only three elephants, but it lacked in abundance. The car almost overturned, but again was at the wheel. Tusk appeared and disappeared with appalling speed. The powerful roar shook the air, bursting with grinding metal. Suddenly a door opening dawned huge rack of eye framed in textured leather with long eyelashes. It belonged to elephant who tried to push his head cab roof. "
Ten years ago jeeps with tourists were accompanied by an armed guard. But this is a security measure repealed – conductors and drivers experience with the prohibition to leave aside from the route protects against attacks. Leaders know that near a rhino with baby not wise to make noise and ground near the lake with hippo safe, and tourist can stretch their legs. I noticed that during the safari guide and driver not relax, twisting their heads and talking quietly. Nearby – leopards, they are lazy in the sun, "Lendrover" stops. Giraffe fits close to the car – you can push and make-ups. The herd of elephants peacefully eat grass and hiding in the woods. Guide and driver alert: elephants move silently through the woods and never – in a straight line, they may appear unexpectedly very close…
But nothing happened. Elephants returned from the forest to the former meadow. Birds fly-cleaners are following them. Birds dig in elephant skins and pick out insects. Interesting! But here we see what is not read in any book. It turns out that elephants have sex not only for procreation, like all other animals, but also for fun. Among the elephants there is oral sex! How, you ask? With trunk, of course!
Going past the cranes, wildebeest, antelope Thompson. Many ostriches and zebras come across. Guide gestures on a lonely tree near the gully. At the branch there is a lion! We cry, but lion even don't moves, he is resting – soon time to hunt. The best place to see the lion hunts – Ngorongoro Crater. Contrary to common misconception lion hunts not at night but in twilight. In the tropics it gets dark quickly, just admiring the sunset – and suddenly impenetrable darkness. Ngorongoro is a unique place, here twilight stretched in time. This is where the American amateur photographer was shot image, which earned him more than twenty thousand dollars, lioness interrupts buffalo ridge. A possible successors successful photographer recall: in the national parks of Tanzania were killed at least ten photographers who crept to the subject too close…
The night we spent in the lodge Lake Manyara. At about 6 a. m., I went out to the balcony and looked at the lake and lengthy fog rainforest. And at the bottom, right on the lawn outside the hotel… peacefully were sitting fifteen baboons. Their eyes were compassionate, and I threw them red banana. What started than! First peaceful and smart-looking baboons screamed savagely and made ugly fight, waking every hotel guests. I felt ashamed of my outburst, I decided to immediately calm baboons – and threw them a second banana. Immediately about fifty baboons ran out of the bushes. Adults made a real fist fight wall to wall, and the kids climbed on my balcony. I quickly retreated to the room, close curtains and hid. Meanwhile, the fight continued outside, and staff ran the corridors, making some steps to calm fussy baboons…
At breakfast, the administrator explained morning attack monkeys to hotel by extraordinary drought and the complete lack of rain in the past two months. I did not convince him, but for myself decided to never throw baboon red bananas.
By Arif Aliyev.