Hot Snows of the Kilimanjaro
Africa is leaving. Another five, ten years and Africa will become civilized, will live by European standards and likely will become more boring. But before you can come to Tanzania and see burning eyes leopard in the dark rainforest. There is still time…
AIR KILIMANJARO
Every day dozens of tourists are seeking to conquer the highest peak in Africa. The Germans, the French, Czechs, Australians, Americans… They pay a lot of money and come to Tanzania with a definite purpose – to pass five days on the mountain route and climb the 5,895-meter mark. There are a lot of mountains to climb which allow for free. Not less than fifty mountains, the same high. And harder than Kilimanjaro – thousands. All true. But by the number of climbing Kilimanjaro in the first place. The fact that, unlike the Mont Blanc in Kilimanjaro there are no avalanches. There's no bottomless ice cracks Elbrus, Icefall Kanchenjunga, lightning Ushba, deadly frost Everest. There is no need to climb ropes and hooks. For all that Kilimanjaro – Mountain complex, insidious, serious and not everyone obeys.
In Kilimanjaro person struggling only with himself and with altitude. Our planet is not really perfect ball and flattened at the poles of the ellipsoid, and the highest peak African mountains – even the point farthest from the center of the Earth. There is not much air on top. According to experts, after the 5600-meter mark Kilimanjaro is consistent like 7000. Climb 7000 having no concept of climbing equipment. That is the reason relentless human flow. Everyone go to Kilimanjaro: enthusiastic girls, boys pumped with anabolic, housewives, retired, former climbers, workaholics, tired from the constant stress at work, smoky alcoholics, athletes with disabilities. All interesting – will be able to climb on top Kilimanjaro or not. Everyone has his own destiny, his start, a reason to go to the mountain. Only a fifth of all of them gets to the top.
At the entrance to the National Park Kilimanjaro wooden shield listed many "warning". You can not go uphill with heart disease, unhealthy liver and kidneys, with abnormalities in the brain… But none of the tourist, who buy Kilimanjaro tour, do not even make cardiogram. Forward! The path is long, the road straight.
LEOPARD EYES
The climb starts from Marangu Gate National Park, with a height of 1700 meters. Sign Kilimanjaro is 310 dollars, service road and shelters – even 300. But of course tourists using the services of travel agencies – is cheaper, the same price is also provided a shuttle from the hotel and the airport. We record our data in a book of climbers. Our team consists of the operator and photographer biathlonist Vladimir Ivanov, 49 years; one of the leaders of the host firm "Aero-Shah Tours" Vladimir Golubev, 46 years; and the author of this article 37 years.
Vladimir Golubev long lives in Tanzania, was on the top three times and therefore highly respected and exempt from entry fee. Our backpacks are alternately carry six carriers and escort group – senior guide Tobias. We are introduced to the carriers, and just quiet about their tip, guys, we know the order, we promise at the end of the road a hundred dollars. Carriers became happy, take large backpacks – and go to the route. Tobias is still with us. All the way, whatever happens and whatever speed we go, he will be near or slightly behind.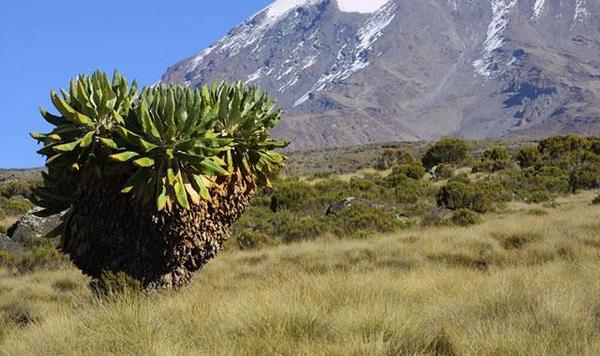 Kilimanjaro region and the mountain itself are Chaga tribe – one of the most affluent and influential in Tanzania. The carriers and guides are belonging to the tribe. Highlanders with the government intelligence agencies responsible for the safety of tourists and watch over the preservation of the park. Chaga know everyone who walks in the mountains, and rightly proud that route excluded robbery and theft, and the return of forgotten things – the usual procedure.
Life Chaga is very high. Unlike other African Highlanders 50-60 years looking at forty. Guide Livingstone (English traveler of the 19th century, who first crossed Africa) and pioneer Kilimanjaro Iohanna Lauo Miller died at the age of 132 years! By the way, Lauo – grandgrandgrandfathers of our Tobias. However, Tobias hardly destined to live to a hundred years. Working tour guide is hard – three or four climbing a month. As a result, over the past few years, died twenty guides and forty Tobias considered old. But he does not regret, six years ago he quit his job as a taxi driver in Moshy and went to three-month course of tour guide. Salary decent, wife and three children are provided, tourists – people interesting and in some way become friends – invite to visit. Not long ago, Tobias visited Sweden.
We are entering the rainforest. Trees intertwined vines; thorns form a continuous path along the wall. Behind backpack with five bottles of water on the road and issued dry rations. Still hot, and we go in shorts and t-shirts. The first station Mandara Hut three to four hour journey, we must go ten miles and to kilometers climb vertically. Our route – the most popular, leaders call it "Coca-Cola". It gradually begin loading, and two days almost no one feels difficulties. Also there is route "whiskey" – mountain takes for three days and six route complexities, it took its time famous mountaineer Messner.
We hear from Tobias counsel that will be familiar: "poly- poly." In Swahili it means something like our "don't hurry". Height typed quickly, and you should go as slowly as possible. A little on the rise – and "poly-poly" pulse should be kept – no more than 120 beats per minute, otherwise there is a chance to catch up quickly "mountain disease"
Earth around the mountain fertile and populated area is very tight. Kilimanjaro National Park – is the last refuge of the nearby animals, so there are many of them.
Mandara huts – a group of houses with peaked roofs and large two-story dining room. Each house has four beds with nice clean mattresses. Light – only solar powered, so you can recharge the batteries along the route, and fans of video recordings stocking batteries and batteries for all five days of travel. At Mandara huts we are waiting for carriers. They make tea and ask whether to submit two hours later dinner. The menu is diverse, to our choice: grilled meat, bacon, eggs, grated spicy soup, fried vegetables, potatoes. While dinner is making, we go to see a small crater located nearby. On the edge of a crater you can see the fields of Kenya. Down there – coffee plantations, fields prickly agave, sisal, poisonous daisy-pyretruma and pineapples. The Catcher eagles soar, above the eagles – marabou.
Marabou beautiful bird in the air reminds pterodactyl. But the soul he has garbage, bird feeds on carrion. We have seen marabou in the trash of Moshy. The locals do not like marabou, they believe that he can kill a child.
We return to the camp and in the dining room with our neighbors discuss the details of the first transition. In our flow there are forty tourists going to the mountain. The largest group – the Czechs, their twelve. All happy and no one has yet tired. Tourists drink plum brandy, gin, whiskey and beer, bought in a stall "Caribou-Mandara." Drinking alcohol is prohibited, but you can easily get around the prohibition – promise tip someone, or booze guide, or carefully pack the bottles. We invite Tobias to our house and listen to his horror stories about leopards that prowl the darkness through the camp in search of edible trash.
At night I can not sleep. I take binoculars and go out – I want to find the Southern Cross. Across the sky I see Milky Way. Bucket Big Dipper upset, and the side – that's it, the same Southern Cross. Falling stars, satellites flying in the sky… I omit binoculars – and see two yellow eyes near me. After five seconds, I was lying in a sleeping bag. Binoculars remained lying on the doorstep.
Continuing the story about climbing Kilimanjaro, read in the following article.
By Arif Aliyev.